Keeping Safer Chemicals in Focus When Purchasing Building Products
---
Tuesday, January 31, 2023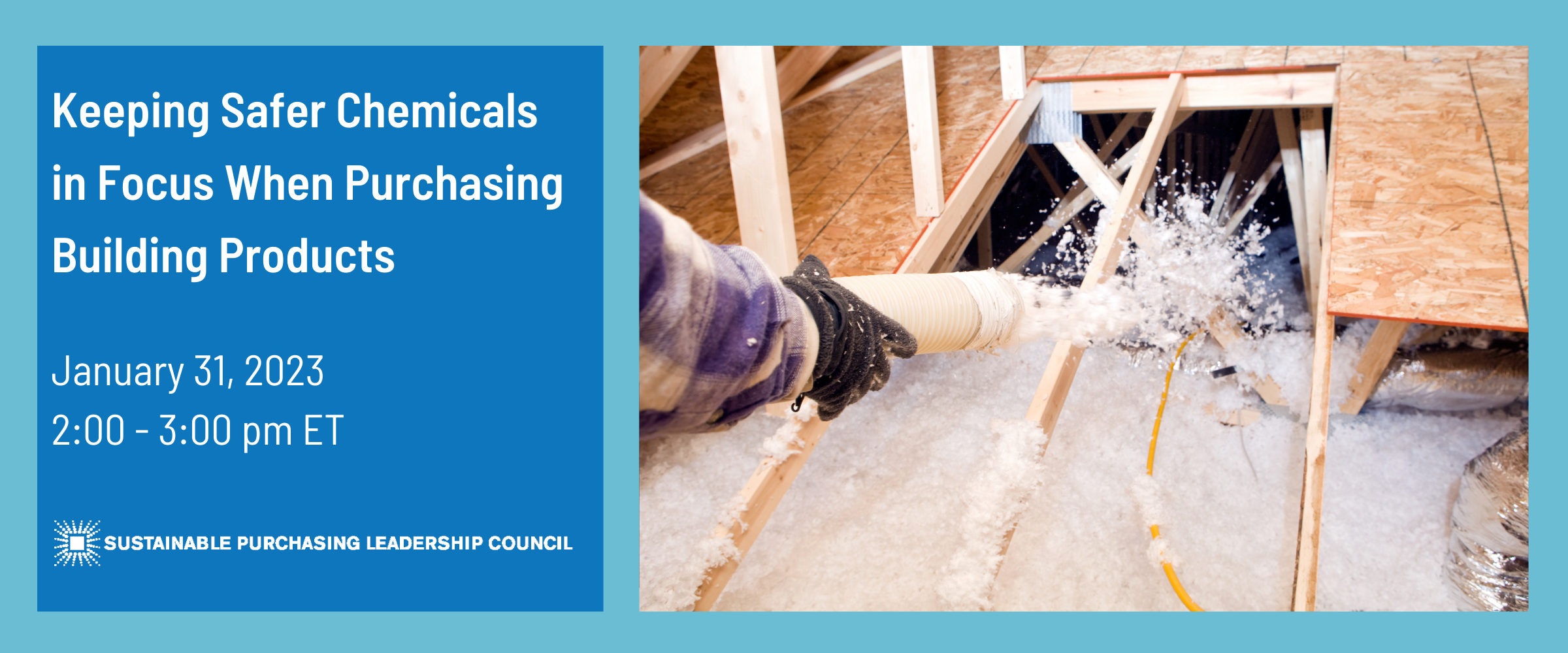 Recent analysis from Healthy Building Network and the Natural Resources Defense Council found that building insulation materials like spray polyurethane foam release hundreds of thousands of pounds of hazardous pollution in communities of color over the life cycle. In this webinar, learn about the findings from this research and how avoiding hazardous chemicals in the building products you purchase can be part of the solution.
Panelists:
Veena Singla, PhD, Senior Scientist - Natural Resources Defense Council
Rebecca Stamm, Senior Researcher - Healthy Building Network
Walter Currin, AIA, LEED AP BD+C, Associate - SERA
Heather Henriksen, Chief Sustainability Officer - Harvard University
A recording of the webinar will be available to SPLC members.
Get to know our panelists:
---
Veena Singla is a Senior Scientist with the Natural Resources Defense Council and Adjunct Assistant professor at Columbia University. She focuses on creating healthier indoor environments, including advancing safe and sustainable materials in the built environment and everyday products. Her work seeks to address health disparities linked to harmful environmental exposures using an interdisciplinary approach incorporating environmental health, exposure science, public health, and policy expertise.
Veena specializes in the communication of complex scientific information at the intersection of research and policy and has testified to the Consumer Product Safety Commission, the Alaska state legislature, and the San Francisco Board of Supervisors. She currently serves on the US EPA's Children's Health Protection Advisory Committee, the National Toxicology Program Board of Scientific Counselors, the Board of Directors for Clean Production Action, and as Associate Director for the Agents of Change in Environmental Justice Program.
---
Rebecca Stamm is passionate about improving human and environmental health through safer products. As Senior Researcher at Healthy Building Network, she works with the team to conduct vital research on the life cycle chemical impacts of materials to drive transparency and innovation. Rebecca has a B.S. from Rose-Hulman Institute of Technology and M.S. from Purdue University, where she studied Chemical Engineering, and has worked extensively in building product and chemical hazard research. She also serves on the Health Product Declaration Collaborative (HPDC) Technical Committee and is co-chair of the HPDC Social Equity Technical Sub-Group.
---
Walter Currin - Since beginning his architecture career in 1999, Walter has been most interested in working to create buildings that foster humans' interactions with each other and the world around them. His career has focused both on the design of buildings for education and for multifamily housing; the thread of connection he sees is that both are about building community and embracing stewardship.
A regular day for Walter has him facilitating consultant meetings, modeling a space in Revit, grappling with urban design issues, figuring out where the best place is to put sealant for a building envelope issue, and advising other teams in his company on sustainability related goal setting. He would not have it any other way.
Recent projects of Walter's include a small campus of five apartments buildings with a park and 4-acre underground parking garage (in Gresham, OR) as well as multiple buildings in the new Eugene (Oregon) Riverfront District including a 95-unit apartment building currently under construction. Walter serves as SERA's in-house subject matter expert on modular construction and was the project architect on the firm's first volumetric modular design project—Magnolias Apartments. He led the team, working remotely from eight different states, by coordinating the structure and building systems with building modules, and integrating all seamlessly with the site. Walter likens modular building design to designing cars and arranging them to function like a ship, more than its stick-built construction counterpart. His interest and expertise in sustainability spans a variety of subtopics including optimizing product selection, daylighting, and reducing both embodied and operational carbon.
---
Heather Henriksen has served as Harvard University's chief sustainability officer since 2008, advising the President and senior leadership on Harvard's University-wide sustainability strategy and building an organizational change enterprise. Heather leads the Office for Sustainability which oversees the comprehensive Sustainability Plan (co-created with faculty and students) and the University's Climate Action Plan (to be fossil fuel-free by 2050 and fossil fuel-neutral by 2026), which builds upon the 2016 achievement of Harvard's initial science-based climate goal.
The Office for Sustainability has expanded a multi-disciplinary living laboratory research program that partners with faculty and students to use the campus as a test bed for piloting and sharing innovative solutions to real-world sustainability challenges. A nationally recognized leader in healthier buildings and materials, Heather is leading an effort with faculty to translate research into practice, in partnership with business and non-profit leaders, to address the use of chemicals of concern in common building products, as well as more broadly addressing health and well-being in the built environment. Heather also advises courses throughout Harvard College and the professional graduate schools and speaks nationally and internationally on sustainability.
Heather is on the Board of Directors of the International Living Future Institute and is an emeritus board member of the Health Product Declaration Collaborative. Heather serves as Advisory Committee Co-chair of the International Sustainable Campus Network, and she is a member of Environmental Entrepreneurs (E2). She advises the Higher Education Working Group of the Boston Green Ribbon Commission and is a member of the Sustainability Working Group for the Council of Ivy Presidents. Heather holds a Master in Public Administration from the Harvard Kennedy School.
For More Information: