Back to Products & Services
Large Corporation - Measurement
Climate Collaborative | Climate Collaborative - Large Corporation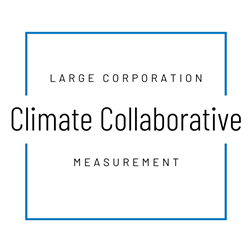 Climate Collaborative Participation Agreement
Collaborative participants will agree to a shared set of commitments so that we can build momentum and trust from the start of our collective work:
Participate in workgroup meetings your organization is involved in and complete work outside scheduled meetings to support forward motion.
Observe Chatham House Rule and respect all Anti-Trust guidelines, which includes no discussion of prices paid or received for products or services, no discussion of specific supplier engagements, and only coordination on high-level approach and strategy related directly to emissions reductions.
Share internal insights and tools/methods to the greatest degree possible to aggregate knowledge and build toward meaningful shared understanding and approach.
Deploy organizational resources (i.e., technical support, operational insights, testbed deployment of prototyped solutions) as fully as possible to sharpen and provide meaningful feedback on draft solutions and enable rapid iteration and improvement.
Engage key allies and partners to join the Collaborative or support work with data, in-kind service, financial, or other contributions.
To receive the member rate, you must be logged into your SPLC member account at the time of purchase. Click here to log in. If you do not have a member account, click here to create one.
Non-Member Price:
$1,500/yr
---