SP Assessment
Evaluating and guiding your organization's path to sustainable procurement excellence.
We are excited to announce the Inaugural Sustainable Procurement (SP) Assessment launching exclusively to SPLC members.
What is the SP Assessment?
The SP Assessment evaluates an organization's sustainable procurement program while providing education, benchmarking, and guidance on critical next steps to unlock your organization's ability to do more. Organizations will be given six weeks to respond to 37 multiple-choice questions evaluating the extent to which they:
have strategically integrated sustainable procurement into their organization;
purchase from sustainable suppliers;
purchase sustainable goods and services;
give preferential treatment to the most sustainable suppliers with the most sustainable offerings;
support the global alignment of purchasing demand towards collective action.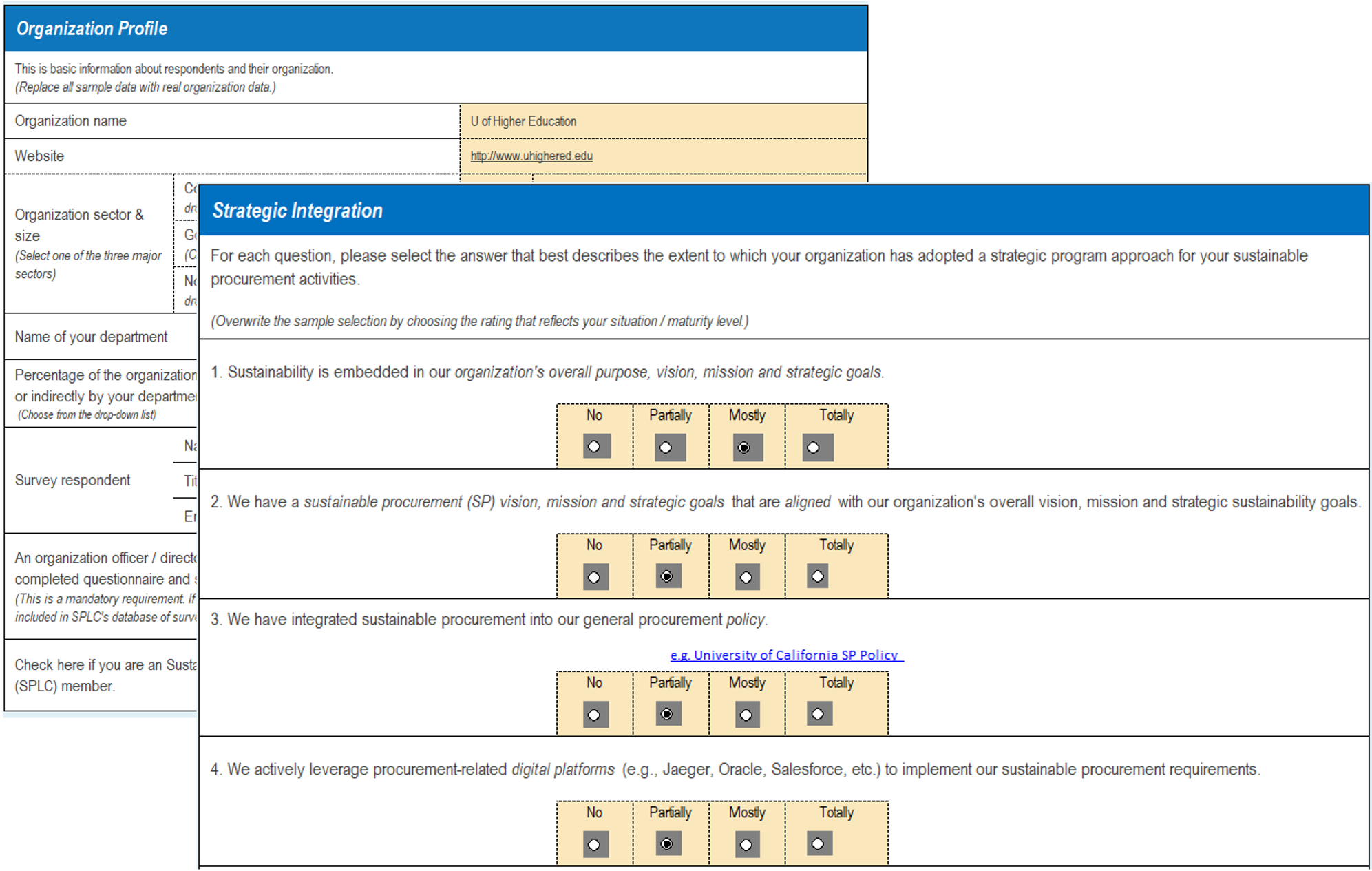 SPLC Sustainable Procurement (SP) Assessment © 2023
by Sustainable Purchasing Leadership Council (SPLC) is licensed under CC BY-NC-ND 4.0.


The results of the assessment will be anonymously consolidated and summarized, and participating SPLC members will receive a confidential report, a comparison of their responses to others, and a list of suggested next steps and related resources to improve their sustainable procurement results over time.
Benefits of the SP Assessment
Educate your organization on prioritized best practices in sustainable procurement.
Identify where you are in SP maturity and how you compare to others.
Establish a baseline from which your SP progress can be measured.
Provide feedback to the SPLC on our program effectiveness and future needs.
Enable impact reporting for our collective actions.
The Inaugural SP Assessment has kicked off. However, SPLC Members can still sign up as long as their assessment responses are submitted by May 26, 2023.
Click here to get started.
Thank you to our SP Assessment sponsors!