Leadership Awards
Have you done something extraordinary to further the sustainable procurement movement? Get the recognition you deserve!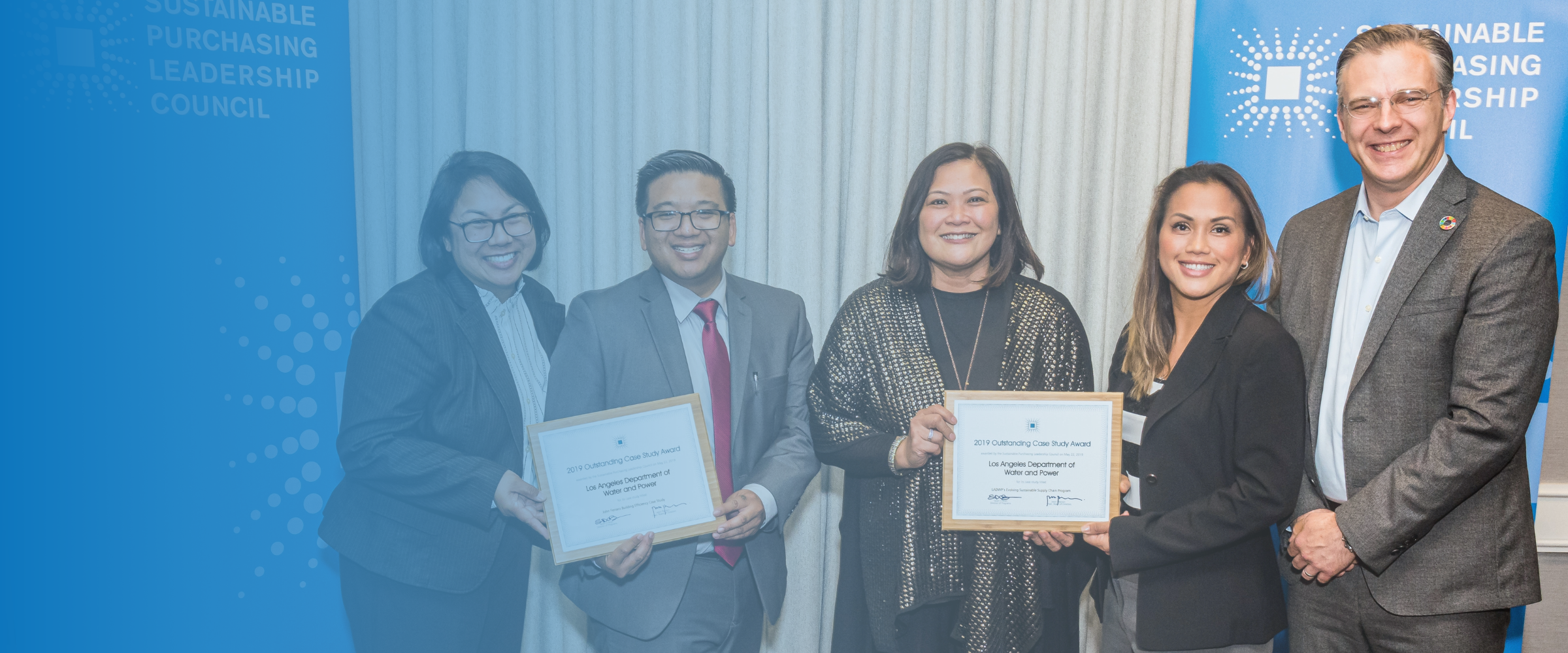 The Sustainable Purchasing Leadership Council's Leadership Awards is an annual event open to all organizations and individuals. To qualify for the 2023 Leadership Awards, complete your submission by July 17th, 2023. Use the buttons below to complete your submission.
SPLC Leadership Awards Submission Instructions
Submission for SPLC Awards Program
Congratulations to our 2023 Winners!
Individual Leadership Award
Louisa McGuirk - Salesforce
Special Initiative Award
University of Pennsylvania
Overall Program Award
Dallas College
Supplier Leadership Award
HP
Award Types
---
Organizational Leadership Awards
Winning submissions for purchaser, supplier, and public interest advocate submissions will be selected by a blue-ribbon jury for special recognition.
---
Individual Leadership Awards
Winning submissions recognize one or more individuals whose vision, leadership, and dedicated effort have been fundamental to the advancement of the sustainable purchasing movement.
---
Case Study Recognition
All case study submissions that meet baseline leadership and quality criteria will earn an Outstanding Case Study award, even if they do not qualify for a juried award.
---
*Please note that SPLC awards are intended to recognize organizational and individual achievement in sustainable purchasing leadership, and not to showcase specific products or services. Case studies that primarily promote a supplier's products or services will be disqualified.

Juried Award Categories


| | |
| --- | --- |
| Overall Program | Recognizes an organization whose overall sustainable purchasing program exemplifies the qualities defined in SPLC's Principles for Leadership in Sustainable Purchasing |
| Special Initiative | Recognizes an organization for a specific purchasing initiative that demonstrates exceptional leadership in improving the environmental, social, and economic performance of the organization and supply chain. |
| Engaging Suppliers | Recognizes a purchasing organization that has done an exceptional job of motivating and helping to develop high sustainability performance by its suppliers. |
| Business Case | Recognizes the organization that best demonstrates the business value generated by sustainable purchasing. |
| | |
| --- | --- |
| Supplier Leadership | Recognizes a supplier organization whose actions have enabled institutional purchasers to better understand and improve the impacts of their procurement decisions. |
Public Interest Advocate

Leadership

Recognizes a public interest advocate organization whose actions facilitate market transformation towards sustainability – in particular those who have enabled institutional purchasers to better understand and take responsibility for the consequences of their spending.
| | |
| --- | --- |
| Circular Economy Leadership | Recognizes leadership in work to forward circular procurement |
| | |
| --- | --- |
| Individual Leadership | Recognizes one or more individuals whose vision, leadership, and dedicated effort have been fundamental to the advancement of sustainable procurement best practice and building the sustainable purchasing movement. Nominations for the Individual Award can be made by the individual themselves, and/or by another person or organization. |
Outstanding Case Study

This award is given to all high quality case studies submitted that meet our

outstanding case study criteria

but are not selected for juried awards at this time.

Recognizes the contribution leaders make when they take the time to document and share their work with others to provide models of excellence in sustainable purchasing.

All Outstanding Case Study submissions will be included in the SPLC Case Study Library.
Holistic Sustainability Leadership: More than Just Environmental
We strongly encourage submissions that address social, economic, and ethical aspects of sustainable purchasing, as well as environmental impacts.
For example:
Have you worked to develop the sustainability competency and capabilities of your small and diverse suppliers?

Have you addressed supply chain human rights concerns like conflict minerals and human trafficking?

Have you challenged your suppliers to put in place anti-discrimination and affirmative hiring practices?

Have you connected your purchasing to local economic development that improves the community in which you operate?
SPLC Leadership Awards Submission Instructions